Meet Dr. John Fairbanks

John Fairbanks, M.D.
Board-certified Urologist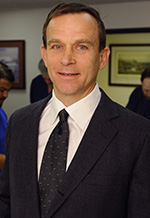 Please note: Effective October 1, 2015, Dr. Fairbanks has joined Urology Clinics of North Texas.
Dr. Fairbanks currently practices out of the Urology Clinics of North Texas Carrollton and Flower Mound locations.
Dr. John Fairbanks is Board-certified in Urology. Dr. Fairbanks completed his residency in General Surgery, in the Department of Surgery, at the University of Cincinnati in Cincinnati. Dr. Fairbanks completed his residency in Urology and also served as Chief Resident in the Department of Urology at the University of Cincinnati. He completed his Doctor of Medicine at the Chicago Medical School. He is a current member of Society of Government Service Urologists, the American Urologic Association, the Texas Medical Association and the Denton County Medical Society.
Dr. Fairbanks has been published in the Journal of Urology and Pediatric Urology. Before joining Texas Urology, Dr. Fairbanks was a Urology Staff Physician at Scott Air Force Base in Illinois and also served as a Surgical House Physician at Christ Hospital in Cincinnati, Ohio.
There are a number of benefits to the patients as a result of this new association with Urology Clinics of North Texas:
About Urology Clinics of North Texas

Urology Clinics of North Texas, P.A. was formed in 1999 by a merger of the practices of premier urology groups.

Twelve of our physicians have been honored as "The Best Doctors in America."

Our Mission:

To give our patients excellent care and treatment of urological disorders, and to deliver that care courteously, caringly and efficiently.

We Strive to:

* provide highly positive medical outcomes

* apply proven advanced technology and pharmaceuticals

* deliver care in locations convenient to patients throughout the Dallas, Collin and Rockwall and Tarrant County areas, including the communities of Carrollton, Colleyville, Flower Mound, Keller, Grapevine, Trophy Club, Westlake, Roanoke, North Richland Hills, Watauga, Hurst, Euless, Bedford, Denton, Decatur, Lewisville, Allen, Plano, Garland and Ennis

* affiliate with hospitals and other physicians who share a reputation for excellence

* continuously expand and update our medical knowledge, skills and techniques.

Robotic Surgery

Urology Clinics of North Texas uses the most advanced robotic-assisted technology. Patients of Urology Clinics of North Texas can benefit from the many DFW UCNT locations, the robotic-assisted technology is offered at multiple Dallas - Fort Worth locations and patients may elect to have the procedure at the office closest to home. This new technology provides a more precise, and less invasive surgery for prostate cancer and can be provided locally. This typically reduces the size of the incisions needed, shortens the hospital stay and speeds patient recovery with better outcomes.
Quick navigation links:
What is a Urology Center | Urologist | Urology Conditions | Urology Services | Resources for Health | Contact Urology Center in North Texas | Sitemap | Home
Disclaimer:
The pictures displayed in www.TexasUrology.com are images of actual patients and employees who have consented to have their picture in this website.


Website Design & Educational Content © Copyright 2023 MedIngenuity, LLC
Medingenuity develops content-rich educational web sites for urologists and urology group practices.