Choosing a Doctor
Click here to read more about Finding the Dr. Right For Your Healthcare Needs.
Selecting the Right Hospital For You and Your Family
Do you know what hospital your doctor would send you to if you became ill, or if you needed surgery? Do you know which of the hospitals in your area have the best reputations, and for what kinds of care? Does your doctor have privileges at the hospital covered under your plan?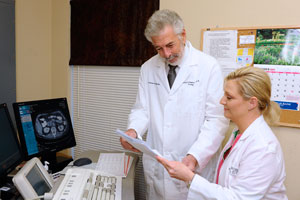 Steps to better interaction with your doctor
The Annual Physical Exam - 10 Steps to Having a Better Interaction With Your Doctor A few years ago I went to the Cooper Clinic in Dallas, Texas for a comprehensive physical examination. The exam last nearly eight hours and every opening and structure on my body was probed and explored. Are these costly and lengthy "extreme physicals" necessary or useful?
Most men and women have a primary care physician (PCP), internist or family doctor. But often you will find yourself in the need of a specialist. A medical specialist practices in a very narrow aspect of medicine whereas a PCP covers the entire gamut of medical care but not to the same depth as a specialist. A specialist, like a PCP, completes medical school, and then has additional education consisting of a residency and a fellowship which is even additional training that allows them to subspecialize within a specialty, for example a doctor may train to become a gynecologist and then take additional training to become a subspecialist in pelvic reconstruction.
In your search for a medical specialist, you should remember that most specialists receive their patients through referrals from family doctors or from other specialists.
Your family doctor or internist usually will decide whether your medical condition needs the attention of a specialist. For example, if you have a mild inflammation of the ear canal, your family doctor is quite capable of treating it. If there is chronic inflammation of the ear canal, however, or if you have suffered a partial loss of hearing, your family doctor probably will refer you to an otorhinolaryngologist (ear, nose, and throat specialist).
Sometimes it may be difficult to determine the type of medical specialist needed to diagnose and treat a particular problem. For example, visual problems may be limited to abnormalities in the eye itself, but they may also be the result of a wide variety of causes, including diabetes, hardening of the arteries, a stroke, or a tumor in a part of the brain that controls vision.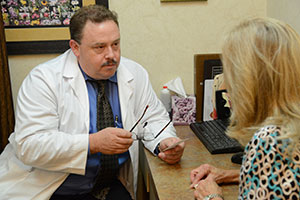 The human body is an organic system. Changes in one part of the system affect other parts, and no part of the system functions in isolation. Consequently, the first task in treating an illness is to discover the underlying primary cause of the ailment. When the cause is found, you may then be referred to a medical specialist who deals with the specific area of the body most affected by that problem.
The first line of action in selecting a medical specialist is to follow the advice of your family doctor. Your family doctor will know whether you need a specialist. However, you can always ask for a second opinion or seek out a specialist on your own.
If your family doctor refers you to a medical specialist, or if you seek one on your own, you should learn what each specialty consists of and what to expect when you see a specialist. Knowledge, after all, is a key tool when seeking a medical specialist.
It is a good idea to find out if your specialist is board certified. This means that the doctor has passed an examination that deems him\her qualified to treat various conditions within that speciality.
If you are referred to a specialist, and the specialist recommends surgery, you may want to know what experience he\she has with the procedure, how many they have done, what are their complications, and in big cases like heart valve replacement or removal of a brain tumor, you will want to know what are the doctors' mortality rates or how many patients did not survive the surgery.
You can find out about your physicians' board-certification at the American Board of Medical Specialists (https://www.abms.org/). As part of its public service, access to the ABMS Medical Specialists Online certification verification service is available to the public free of charge. This self-serve resource allows you to conduct searches by a physician's name or area of certification and a state name.
Bottom Line:
Finding a specialist can be a daunting experience. However, with a good referral from your primary care doctor, a little research on your part, and then a face to face meeting to determine if there is good chemistry between you and your specialist, you can be reasonably certain that you have made a good choice.
[Top]
Quick navigation links:
What is a Urology Center | Urologist | Urology Conditions | Urology Services | Resources for Health | Contact Urology Center in North Texas | Sitemap | Home
Disclaimer:
The pictures displayed in www.TexasUrology.com are images of actual patients and employees who have consented to have their picture in this website.


Website Design & Educational Content © Copyright 2023 MedIngenuity, LLC
Medingenuity develops content-rich educational web sites for urologists and urology group practices.