Meet Dr. Ken Goldberg

Ken Goldberg, M.D.
Board-certified Urologist
Faculty Associate University of Texas Southwestern Medical School, Department of Urology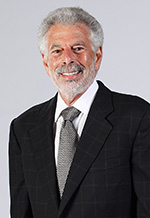 Please note: Effective October 1, 2015, Dr. Goldberg has joined UT Southwestern. This transition will allow Dr. Goldberg to continue to practice for another 5-10 years while focusing on what he truly loves and enjoys, his patients and the specialty of Urology.
He will maintain his office in Lewisville full time.
There are a number of benefits to the patients as a result of this new association.
1. Expeditious access to one of the premier urology departments in the country with specialists in every aspect of urologic care.

2. Access to state of the art diagnostic and treatment facilities on a par with any in the country such as MRIís for prostate, fusion biopsies for prostate, urodynamic testing for incontinence, blue light cystoscopy for bladder cancer, and proton radiation therapy from the new Proton Center to be opened in 2018.

3. Access to an incredibly easy, user-friendly electronic medical records system, with the ability to message, receive results and request refills as well as make appointments.

4. Faster access to UT Southwestern Medical Staff for medical issues beyond the scope of community care.
From an insurance note, it is important for you to be aware that UT Southwestern is NOT on HMO Blue. Additionally, regarding the Medicare Advantage Plans, it only participates with Aetna and Humana. It is NOT on Secure Horizons, Silverback or United Healthcare Medicare Complete. I urge you to keep this in mind as you make your decisions for your healthcare needs through Medicare and health plans for 2016.
Kenneth A. Goldberg, M.D., is former Medical Director of the Male Health Institute, Baylor Health Center at Irving-Coppell, Irving, Texas, and currently practices with Texas Urology, at the Lewisville and Carrollton locations.
Board certified in urology, Dr. Goldberg received his medical degree from Case Western Reserve Medical School in Cleveland and completed an internship-surgical residency at Emory University School of Medicine in Atlanta and a Urology residency at George Washington University in Washington, DC.
He founded the Male Response (Impotence) Center and the Center for Permanent Birth Control in 1987. In 1988, these centers evolved into the Male Health Center, the first center in the United States to deal exclusively with male problems.
Dr. Goldberg has received national and local recognition for his work in the area of menís health. He has served on the boards of the Impotence Foundation and the National Menís Health Network. In 1996, he was named Prostate Health Educator of the Year for the South Central Section by the American Urological Association and was nominated to the governorís advisory committee on prostate cancer awareness.
He has given hundreds of presentations on menís health issues to the medical community and the public. Presently, he conducts continuing medical education courses for physicians on erectile dysfunction (ED), prostate disorders, and male health issues. He has co-authored articles on male problems such as ED for the New England Journal of Medicine and the Journal of Urology, and co-wrote the American Academy of Family Physiciansí web page on prostate disorders.
In addition to running an extremely active clinical practice, Dr. Goldberg has been involved in clinical research on various treatments for ED, prostate disorders, and sexually transmitted disease.
Dr. Goldberg is a strong advocate for public awareness of menís health issues. He is the author of How Men Can Live As Long As Women and What To Do When the Man You Love Wonít Take Care of His Health, books devoted to the prevention of disease in men. He was a consultant to the book, Viagra, The Potency Pill published by the editors of Consumer Guide. He also has been an advisor to various publications on menís health including the Menís Health Newsletter, Menís Health magazine, Prime magazine, and various menís fitness magazines. For many years he had a nationally syndicated column ďHis HealthĒ that ran bi-weekly in the Dallas Morning News and also had a monthly column on menís health for the Trade Union Courier, the newsletter for the Teamsters Union. He has been interviewed by numerous national consumer publications including USA Today, Readerís Digest, Ladiesí Home Journal, Penthouse, GQ, Vanity Fair, Family Circle, and McCallís. He has appeared on MSNBC, Good Morning America, The Home Show, the CBS Morning Show, and the CNN Morning Newsóall in promotion of public awareness of menís health issues.
Most recently he has become national spokesperson for Male Health for Post Shredded Wheat and for the National Community Pharmacy Association (NCPA). Dr. Goldbergís chat room on Male Health for WebMD was one of the most active community centers on the site.
Dr. Goldberg also has collaborated extensively with noted author and columnist Gail Sheehy on various aspects of the aging man and has co-presented with womanís health advocate, Ruth Jacobowitz, on sexuality and intimacy at symposia for men and women.
[Top]
Quick navigation links:
What is a Urology Center | Urologist | Urology Conditions | Urology Services | Resources for Health | Contact Urology Center in North Texas | Sitemap | Home
Disclaimer:
The pictures displayed in www.TexasUrology.com are images of actual patients and employees who have consented to have their picture in this website.


Website Design & Educational Content © Copyright 2023 MedIngenuity, LLC
Medingenuity develops content-rich educational web sites for urologists and urology group practices.