Selecting the Right Hospital For You and Your Family
Do you know what hospital your doctor would send you to if you became ill, or if you needed surgery? Do you know which of the hospitals in your area have the best reputations, and for what kinds of care? Does your doctor have privileges at the hospital covered under your plan?
The choice of hospital can make a big difference in the outcome of a surgery or illness. Unfortunately, many people don't realize this, and they miss out getting the best possible health care. You cannot always go to the hospital of your choice, but if you can choose, try to make sure the hospital has extensive experience with your condition. Studies show that patients have better results in hospitals that have experience in treating their condition. For example, if you are planning to have heart surgery, you want to know how many cases are done at the hospital on an annual basis and what is their mortality rate, i.e., how many patients died within 30 days of having the surgery.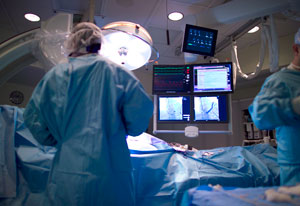 Healthcare is a matter of life and death. Some hospitals have significantly higher mortality rates, infection rates or post-surgical problems than others. More than your doctor is involved in how well you will do following major surgery.
There are many ways to check on the quality of care at a hospital. First, talk to physicians and friends. What hospital does your doctor recommend? What experiences have your friends had with hospitals in your area? Next, do some homework online before you go into the hospital. Consumer Reports has a thorough article on quality of care at hospitals. Many hospitals are rated. The Consumer Reports Web site also has information about different "report cards" that look at the quality of care in many hospitals.
You can also ask the hospital for ratings, quality reports or patient satisfaction surveys. After you have checked on the credentials of the hospital, you can call or visit the hospital. The hospital you're looking into should be able to provide you with information on its accreditation, services, performance reports, and more.
Here are a few things to ask about the hospital:
Will the hospital provide you with a written description of services and fees?
Is the hospital accredited by a recognized accrediting body?
What will the hospital do to help you find financial assistance if you need it?
Is the hospital clean? (Visit the hospital, and ask to see the patient rooms.)
How often is your particular procedure performed?
What is the hospital's record in regard to the particular medical procedure(s)that you expect you'll need?
Do the hospital's services and specialties meet your specific medical needs?
How would your surgeon and primary care physician be kept informed about your specific care needs?
Will a written discharge plan be developed for you before you leave the hospital? Very few hospitals do this but it is very important as you want to know what you can do, what are your limitations, what medications you should take, and when you should make your next appointment. Without a written discharge plan, you can be sure you will forget what the doctor or nurse told you at the time of your dismissal from the hospital.
We think this could be one of the most important decisions you will make. It may save your life, or the life of someone you love. It's a FACT that the more you know and the more you are involved in your medical care the better you will do. We believe everyone should understand the quality of the healthcare offered by the hospitals in our area, and that people should make decisions about healthcare with this in mind.
A very useful website, Hospital Compare, is a consumer-oriented website that provides information on how well hospitals provide recommended care to their patients. On this site, the consumer can see the recommended care that a patient should receive if being treated for a heart attack, heart failure, or pneumonia or having surgery.
Bottom Line: The care we receive at various hospitals can vary a great deal. You owe it to yourself and your loved ones to make the best decisions when you are trying to research and find a hospital.
[Top]
Quick navigation links:
What is a Urology Center | Urologist | Urology Conditions | Urology Services | Resources for Health | Contact Urology Center in North Texas | Sitemap | Home
Disclaimer:
The pictures displayed in www.TexasUrology.com are images of actual patients and employees who have consented to have their picture in this website.


Website Design & Educational Content © Copyright 2023 MedIngenuity, LLC
Medingenuity develops content-rich educational web sites for urologists and urology group practices.