Biopsy
Following imaging of the prostate with the ultrasound probe, a very tiny, thin needle is used to anesthetize with Xylocaine on both sides of the prostate at the top and bottom.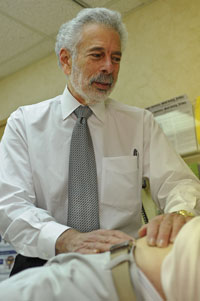 Following this, under ultrasound guidance, using a very small biopsy needle, is then inserted into the prostate to determine precise locations of the prostate. Typically 12 biopsies are taken. Following a total of 30 minutes procedure, the patient is able to leave the office and return home. This entire procedure is done under local anesthesia.
Following a biopsy, a patient can experience blood in the urine, bowel, or semen for any time up to a month.
Quick navigation links:
What is a Urology Center | Urologist | Urology Conditions | Urology Services | Resources for Health | Contact Urology Center in North Texas | Sitemap | Home
Disclaimer:
The pictures displayed in www.TexasUrology.com are images of actual patients and employees who have consented to have their picture in this website.


Copyright © 2017 MedIngenuity, LLC
Web Design for Urology