CT Scan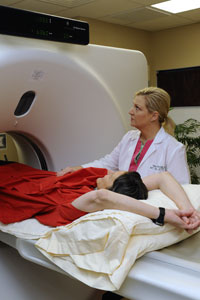 CT scanning - also called CAT scanning - is a non-invasive test that uses special x-ray equipment with sophisticated computers to produce multiple images of the inside of the body.
CT scans from a urologic perspective are taken of the abdomen and pelvis. These are done to determine causes of blood in the urine either grossly or microscopically, recurrent urinary tract infections, to diagnose or rule out kidney stones, to follow-up for urinary malignancies, and reveal sources of abdominal pain.
CT scans can be performed simply with x-ray imaging and/or with the use of oral contrast or intravenous contrast.
Quick navigation links:
What is a Urology Center | Urologist | Urology Conditions | Urology Services | Resources for Health | Contact Urology Center in North Texas | Sitemap | Home
Disclaimer:
The pictures displayed in www.TexasUrology.com are images of actual patients and employees who have consented to have their picture in this website.


Copyright © 2017 MedIngenuity, LLC
Web Design for Urology